Tracer/ST Model 223 Standalone Automatic 3.5″ Floppy Diskette Duplicator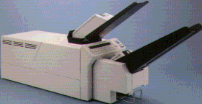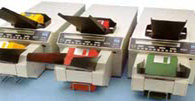 Pictured is the Tracer/ST standalone disk duplicator which copies 100 disks unattended at the rate of 160 disks per hour. Nothing on the market compares to the ST when it comes to quality, price and performance (over 70% of all commercially produced disk are done on Trace Mountain duplication equipment). If you want the most reliable and best duplicator ever manufactured, then the Tracer/ST is for you.
Tracer/ST 223 Features
•Supports all formats automatically including Mac 800k, IBM 720K, Mac/IBM 1.44Mb, DMF 1.68Mb, NEC, Atari, Unix, Xenix, J-3100.
•Copies 135-160 disks per hour
•Bit-by-bit verification ensures perfect copies every time.
•Absolute Window Margin (AWM) and Dropout Testing ensures interchange readability across the widest range of PC Drives.
•AAD (Analog Alignment Disk) testing built-in. Tests Radial Alignment, Azimuth, Index-to-data and Amplitude.
•Electronic counters notify operator when to clean drive and autoloader.
•Built-in Drive Cleaning and Loader cleaning makes maintenance simple.
•Electronic life counters keep track of disk insertions for the drive and loader. Even if you move the drive to another system.
•Optional hard drive for on-line storage of masters.
•One button operation. Press "COPY" twice and you can duplicate any format automatically.
•Master Read-In Analysis.
•Assured Image Integrity (AII).
•The best warranty in the industry. 1 Year system. 1 Year or 20,000 copies on drive, whichever occurs first.
•The best and most reliable autoloader ever manufactured. Over 70% of all disks are duplicated on Trace equipment.
Top Reasons to Invest in a Tracer/ST 3.5″ Disk Duplicator
1.) Easy Maintenance. Our equipment has electronic counters in the drive and in the loader (Stored in EEPROMS). The maintenance counter prompts you when to perform drive and loader maintenance, and the life counter keeps track of how many copies have been made on the drive and on the loader. Move the drive to another loader and the count stays with the drive. This promotes drive life because at anytime you can see how many copies have been made since the last cleaning.
2.) Our duplication drives last longer. Because we are using a 2X base drive with our own electronics, we can completely optimize all of the parameters of the drive and continue to do so, automatically, even during duplication using Auto-Asymmetry. Every 2,500 disks the ST will automatically adjust for head wear giving you the optimum in recording and pro-long the life of the heads.
To do asymmetry on a 2XSDS drive from a competitor, you'll need a minimum of $3,000 worth of specialized disk test equipment.
We also have counters that notify the user when to clean the drive. Proper and timely cleaning of heads will significantly increase drive life.
This translates into an average of 80,000 copies per drive, and a well maintained drive can last well over 200,000 copies.
3.) The best duplicated disk possible. Not only does an ST do bit-by-bit verification, the ST also measure Amplitude (signal) and Window Margin (bit placement).
In other words, even if a disk verifies bit-for-bit (competitors equipment), it could still fail on the Tracer/ST because we measure Amplitude and Window Margin during the duplication process. If either of these adjustable parameters is not met, then we will fail the disk. This means you will get a duplicated disk that has the best chance possible of being read on any drive in the field, even if that drive is out of alignment, has electrical and/or mechanical problems.
4.) When a Tracer/ST fails a disk, it tells you exactly why it fails the disk where competitors equipment does not. This is extremely valuable in maintaining and troubleshooting the equipment.
For example, say you are duplicating 1,000 disks and after 500 copies you are starting to get a high reject rate 10%+. Why is it rejecting disks? Competitors equipment will tell you the disk is bad. But that is not very helpful in trying to figure out why they are failing and how to resolve the problem.
Is it the drive? Is it the media? The Tracer/ST will give you the reason for failure which identifies why the disk is failing. For example, if the disks were all failing with:
Margin = Drive heads are wearing out and need to be replaced.
Dropout = Usually indicates media is the problem. Could also be drive or combination.
Compare = Almost always means media is the problem or drive is completely worn out.
WR Prot = Disks are write protected (WR Protect can be enabled, disabled or inverted in Options menu)
1MB = HD disk sensor is bad and needs to be replaced.
5.) Need your production equipment to be tested & calibrated for ISO certification? We support the Analog Alignment Disk (AAD, $65) which will allow you to test your duplication drive for Alignment, Azimuth, Index-to-data, and TAA. Simply place the AAD disk in the loader and press -OPTION- -UTILS- -TEST- -DRIVE- and the ST will give you a pass/fail for each parameter. With the ST 6000, you have all the tools built-in to do all adjustments necessary to bring a drive back into spec. You can even do your own base drive replacements with an ST 6000.
6.) Our warranty is the best in the business. All loader parts & electronics is 1 year. Drive warranty is 1 Year or 20,000 copies, whichever comes first. Most if not all other manufactures warranty that the drive works upon receipt only.
7.) Advanced World Products services and supports all equipment sold and we won't refer you to someone else to take care of any questions or problems as we have 2 full-time technicians that repair and support this product. That means 95% of the time when you call with a question someone will be available to take your call and answer your questions. And we've been in business 19 years selling and servicing Trace Mountain Disk Duplication Equipment. During this time we've sold more than 1,000 Trace Mountain Autoloaders and have never had one returned.
8.) Need to replace your current disk duplicator because it no longer works and/or you can no longer get support? We will give you a $500 trade-in towards the purchase of a Tracer/ST 223 or 6000.
9.) Extended Service contracts are available and quoted upon request.
10.) Simply the best disk duplicator ever manufactured with over 70% of all disk duplication done on Trace Mountain equipment.
11.) 30 day money back guarantee and the last disk duplicator you will ever need…….Guaranteed.