Markforged Onyx Pro 3D Printer – Gen 2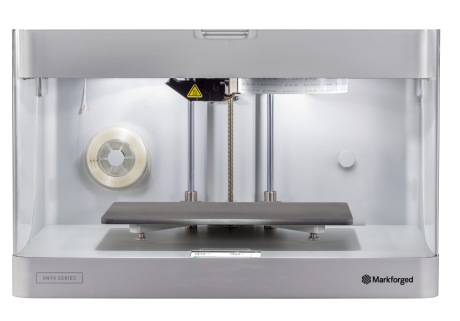 Onyx Pro Features:
• Onyx, TPU, PLA Composite Filament
• Fiberglass
• Strong, Accurate, Beautiful Parts
• Dual Extruder Printhead
• Removable Printbed
• Eiger Basic Cloud Slicing Software
• Includes Printer, Drybox, Spare Nozzles, Toolkit
Top Reasons: Markforged Onyx Pro 3D Printer
Mark Two Review
"I Couldn't Recommend it More and Trust Me, Your Desktop Will Never Be the Same Without One."
"…it is an incredibly well engineered machine that has given us 100% success rate with
whatever we've thrown at it."
-Al Dean, Editor, Develop 3D

The Markforged Onyx Pro, with a second print head exclusively for continuous
fiberglass, is your entry to seriously strong reinforced composite
parts that Markforged is known for.
Welcome to the best, most accessible desktop 3D printer designed uniquely
to print beautiful carbon fiber black parts. Start with the Onyx One and create parts
for a wide variety of applications using our acclaimed Onyx black nylon infused
with chopped carbon fiber filament. Step up to the Onyx Pro for the impressive
strength of adding continuous fiberglass for strong composite parts.
PRINTING
Printing Technology:
Fused Filament Fabrication (FFF)Composite Filament Fabrication (CFF)
Material Compatibility:
Onyx(Black Nylon infused with Carbon Fiber), Fiberglass
Build Size(xyz):
12.59 x 5.19 x 6.06 Inches (320 x 132 x 154mm)
Extruders:
Dual Quick Change
Pause/Resume Prints:
Yes
Accuracy:
50 Micron (.002″ xy)  – 100 Micron (.004″ z)
Layer Resolution:
Onyx: 100, 200 Micron (.004″- .008″) / FiberGlass: 100 Micron (.004″)
Min Feature Size (Nylon Only):
1.6mm
Min Detail Size:
0.8mm
Min Wall Thickness (To Add Fiber) :
2.6 – 3.0mm
Moving or Interlocking Parts (Clearance between parts):
0.5mm
Overhangs & Supports:
40+ Degrees Requires Support
Nozzle Widths:
Plastic/Nylon = .4mm wide / Fiber = .9mm wide
Filament Diameter:
Fiberglass =.34mm
Onyx =1.75mm
MECHANICAL
Printer Dim (L x W x H):
22.6 x 12.7 x 14.2 Inches (575 x 322 x 360mm)
Chassis:
Anodized Aluminum Unibody
Build Platform:
Kinematically Coupled
Draft Blocking Enclosure:
Yes
Printer Weight:
50lbs
Printer Shipping Weight/Dim:
75lbs, 35 x 25 x 30 Inches
SOFTWARE
Software:
Cloud Enabled
Supported OS:
Mac OS 10.7 Lion +, Win 7+, Linux*
Supported Browser:
Chrome 30+
Supported Files:
.STL
Connectivity:
WiFi, Ethernet, USB Drive
Introducing Onyx
Our Most Advanced Material For High-Performance 3D Printing.  Onyx is a Black Nylon
infused with Chopped Carbon Fiber.
ONYX is vs. ABS

233% Tougher
39% Stronger
47% More Heat Resistant
27% Stiffer
ONYX
–
NO POST PROCESSING
  Delivers stunning matte black finish without mechanical or chemical finishing.
ONYX
–
ACCURATE STABLE PARTS
  Added Micro-Carbon Fiber delivers increased dimensional stability and near 100% print success rate.
ONYX
–
MARKFORGED ADVANTAGE
  Onyx can be used alone or further
reinforced with Fiberglass.