DL-3000 3.5″ Automated Floppy Diskette Labeler (No Longer Available)
W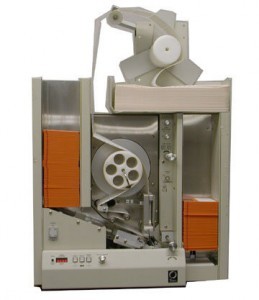 ith superior labeling speed and exceptional placement accuracy, Trace's DL Series Automatic Diskette Labeler offers the best solution for your pre-labeling requirements.
Now you can afford to own the most reliable labeler ever manufactured as we have a good supply of refurbished systems that can stack and label 100 disks unattended at the rate of 3,000 disks per hour.
DL-3000 Features & Specifications
•Stacks & labels 100 disks unattended
•Labels 3,000 disks per hour
• Automatically supports flat (face) labels and wrap-around labels without any additional setup.
•Supports fan-folded and roll labels.
•Holds 2,600 – 3,000 labels rolled or fan-folded
•Easy setup. Thread and start labeling in less than 5 minutes for first time operator.
•Labeling accuracy ±1/64″
•Label Height – Flat labels: 1.25″ to 2.10″
•Label Height – Wrap labels: 2.60″ to 2.75″
•Label Spacing – 1/16″ Minimum
•Backing paper width – 2.8″ to 4.0″
•Dimensions – 21″W x 15″D x 22″H
• Weight – 60lbs.
•Power Requirements – 190 Watts, 120/240 VAC, 50/60Hz
• Operating Temperature – 50 to 122°F (10 to 50°C)
•Operating Humidity – 10 to 80% relative, noncondensing