PC Trace Pro PC based Automatic Floppy Diskette Duplicators
Pictured is the PC Trace Pro System with an In-Line Printer. By virtue of being PC based, PC Trace Pro offers unlimited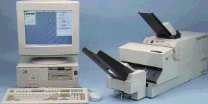 flexibility in what you can do to automate floppy diskette tasks. In addition to making perfect copies of your master, PC Trace can Serialize, Copy Protect and Print label information directly to the label affixed to the floppy diskette. PC Trace can also automate tasks such as virus scanning a stack of masters or loading multiple masters up to your network server. Whatever task requires repetitive reading and or writing of floppies can easily be automated with PC Trace.
SYSTEM REQUIREMENTS: PC Running Windows 95, 98 or DOS ONLY. Will not run in Windows NT, 2000, XP, 7, Server 2003. Will not run in any DOS Box instance.
PC Trace Pro Features
•Supports mosts formats automatically including IBM 720K, Mac and IBM 1.44Mb, DMF 1.68Mb, Unix, and Xenix. Built-in format editor allows for duplication of the most complex or custom formats.
•Copies from 30-45 Disks/hr.
•Each sector is CRC checksummed compared and each byte of information is compared against the original to ensure perfect copies every time.
•Built-in utilities make drive cleaning and maintenance simple.
•Supports serialization for unique identification of each disk.
•Software support for complete command line control. Every function of software can be run from DOS command line for complete automation and customization.
•Supports BBI Computer Systems StopCopy and Aztech Software's Everlock Copy Protection.
•Store masters on-line (local hard drive or network) for quick duplication. Each image file is CRC Checksummed to prevent duplication of possilbe corrupted images.
•Supports the Trace In-Line Printer for printing on labels after duplication. Create collated sets of disks on demand or even create a custom order entry system that will create your master on-the-fly, duplicate it, and then print the unique information on the disk label.