Everest III Standalone Photorealistic CD/DVD Printer
Everest Standalone CD/DVD Printer
Say goodbye to the old silk-screen method … Everest™ printing technology ushers in a new era of affordable, off-set quality CD/DVD printing, producing photo-realistic labels that have the rugged durability of thermal. With Everest™, CD-R/DVD-R labeling has taken a quantum leap into the future.
Product Features
Click Image to see Hi-Res Sample Print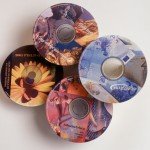 Photo-Realistic Images using Rimage's patented Everest™ printing technology-a ground breaking thermal-retransfer system that redefines the industry standard.
•Unmatched Durability delivering dependable, lights-out production, 24 hours a day, 7 days a week.
•MicroDry™ variable dot printing delivers images equivalent to 160 lines per inch, a true paradigm shift in technology. Everest™ Autoprinter blows away traditional screen printing (90 LPI), and eclipses magazine print standards (150 LPI), delivering unequaled CD printing quality.
•Innovative White Undercoat Printing is achieved by using an available CMY-White ribbon. This remarkable capability allows you to achieve label effects previously unattainable, including photorealistic printing on silver surface media.

data streaming – robotics – printing



Everest III™ Printer
Printing Method

MicroDry™ Re-transfer Photo Realistic printing 

Print Resolution

160 LPI (Lines per inch) Photo Realistic output

Variable Dot Technology

Nominal Media Diameter

120mm  (4.73 inches)

Print Ribbons

3-color (CMY) panel ribbon, 500 images per ribbon
4-color (CMY-White) panel ribbon, 375 images per ribbon.


Monochrome (black) 1000 images ribbon.

Image Transfer Ribbon

Re-transfer ribbon (transparent) 500 transfers per ribbon.

Media Types

Standard CD-R/CD ROM

Standard DVD-R

Power

™

100-120V/220-240V, 50/60 Hz, 500W maximum

Warranty

One year parts and labor (return to depot)

Service Options
Various Rimage Service Programs
are available.Contact your local Rimage Service Representative for details.
Label Editor Software

Perfect Image CD Designer for Windows (included)

Supported Operating Systems

Windows XP

Certifications

Emissions

EN55022 Class A, FCC Class B/15


EMC

EN55024  Class ASafetyUL 1950, c-UL1950, EN60950

Operating Temperature

60ºF-77ºF (15.5ºC-25ºC). Limited by recorder.
Rimage Standalone Printers

333-3335 Rimage EVEREST 600 Color standalone CD-R Printer …………………………………$5,150
41-5300 Rimage 480i 4800 DPI Inkjet…………………………………………………………………. $1,300
333-3334 Rimage PRISM Standalone Printer ………………………………………………………… $6,190