ProJet® 7000 MP
The ProJet 7000 MP stereolithography printer offers the industry's first and most advanced 3D printing, ideal for medical applications with fine feature detail, accuracy and repeatability.
The ProJet 7000 offers a generous build size of 15 x 15 x 10 inches allowing rapid production of a large nuymber of medical parts, with a perfect finish. Bridges, crowns and orthopedic jaw models are almost immediately ready to be used in traditional production processes. Hearing aid shells are produced ready as custom-fit end-use parts.
With a range of materials and accuracy of 0.001-0.002 inches per inch of part dimension, the ProJet 7000 MP is perfect for your manufacturing needs.
Software supplied with this system enable the management of builds, queueing, part editing, stackign and nesting capabilities and build optimization.
Create your products perfectly and accurately with SLA 3D printing.
Deliver tailored treatments to your patients with precision and ease.
Work with a choice of build modes that range from high-definition to ultra high-definition to extra high-definition.
Mass manufacture using a generous build size.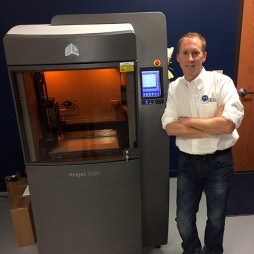 Realize Inc. Puts ProJet® 7000 Through Its Paces

Download PDF Case Study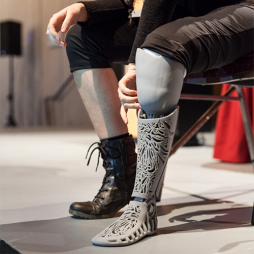 3D Printing Makes Thinkers into Doers

Download PDF Case Study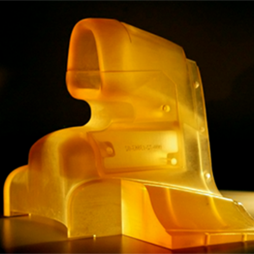 ProJet® HDPlus 3D Printer and CAD/CAM Software Accelerate Development at Macboot®

Download PDF Case Study
3D Printing is more than just prototyping. Today, 3D Printing offers transformative advantages at every phase of creation, from initial concept design to production of final products and all steps in between. Today's competitive environment makes choosing the right 3D printers more important than ever.

Download this new, 19-page 3D Printer Buyer's Guide to learn:

• How to choose the right 3D printer for any application

• The key performance attributes to consider

• Why in some cases, acquiring multiple technologies may be the answer to satisfy your unique, application needs

Don't miss this insightful, quick-read resource.

Fill out the form to the right to download the free guide.
| | |
| --- | --- |
| 3D Opportunity: Additive Manufacturing Paths to Performance, Innovation, and GrowthDownload the Deloitte Review white paper to determine which additive manufacturing or 3D printing path is best for your organization and how it will enable you, your managers and colleagues to understand:•I: A Starting Point for Additive Manufacturing •II: Supply Chain Evolution•III: Product Evolution•IV: Combined Supply Chain and Product EvolutionDon't get left behind in the additive manufacturing evolution. Use this white paper to guide you in the right direction to improve performance, innovation and growth.Complete this form to get your free download of the 3D Printer White Paper today. | |