Projet 3510 CPXMax
The ProJet 3500 CPXMax produces mirror standard wax casting patterns with outstanding precision and micro-detail.
An expanded print envelope increases total throughput and accommodates larger-sized parts

Create remarkable, high quality wax molds for investment casting.
Enjoy the easy and intuitive operation of touchscreen controls and remote tablet and smart phone connectivity.
Model: ProJet 3500 CPXMax
Manufacturer: 3D Systems
Printing Modes
HD Mode: High Definition
HDHiQ Mode: High Definition/High Quality
UHD Mode: Ultra High Definition
XHD Mode: Xtreme High Definition
Net Build Volume (xyz)
HD Mode: 11.75 x 7.3 x 8 inches (298 x 185 x 203 mm)
HDHiQ Mode: 11.75 x 7.3 x 8 inches (298 x 185 x 203 mm)
UHD Mode: 11.75 x 7.3 x 8 inches (298 x 185 x 203 mm)
XHD Mode: 11.75 x 7.3 x 8 inches (298 x 185 x 203 mm)
Resolution
HD Mode: 375 x 375 x 775 DPI (xyz); 33μ layers
HDHiQ Mode: 375 x 375 x 775 DPI (xyz); 33μ layers
UHD Mode: 694 x 750 x 1300 DPI (xyz); 20μ layers
XHD Mode: 694 x 750 x 1600 DPI (xyz); 16μ layers
Materials
Build Materials: VisiJet® Hi-Cast
Support Material: VisiJet® S400
Material Packaging: In clean 3.86 lbs (1.75 kg) bottles (machine holds up to 2 with auto-switching)
Dimensions (W x D x H)
3D Printer Crated: 32.5 x 56.25 x 68.5 inches (826 x 1429 x 1740 mm)
3D Printer Uncrated: 29.5 x 47 x 59.5 inches (749 x 1194 x 1511 mm)
Weight
3D Printer Crated: 955 lbs, 434 kg
3D Printer Uncrated: 711 lbs, 323 kg
Additional Information
Accuracy (typical): 0.001-0.002 inch (0.025-0.05 mm) per inch of part dimension. Accuracy may vary depending on build parameters, part geometry and size, part orientation, and post-processing.
E-mail Notice Capability: Yes
Smartphone Connectivity: Yes
5 Year Printhead Warranty: Standard
Electrical: 100-127 VAC, 50/60 Hz, single-phase, 15A; 200-240* VAC, 50 Hz, single-phase, 10A
ProJet® Accelerator Software: Easy build job set-up, submission and job queue management; Automatic part placement and build optimization tools; Part stacking and nesting capability; Extensive part editing tools; Automatic support generation; Job statistics reporting tools
Print3D App: Remote monitoring and control from tablet, computers and smartphones
Network Compatibility: Network ready with 10/100 Ethernet interface
Client Hardware: 1.8 GHz with 1GB RAM (OpenGL support 64 mb video RAM) or higher
Client Operating System: Windows XP Professional, Windows Vista, Windows 7
Input Data File Formats: STL and STC
Operating Temperature Range: 64-82 ºF (18-28 ºC)
Certifications: CE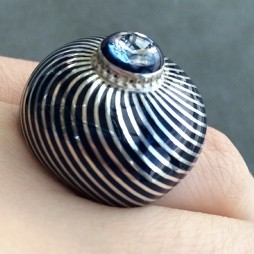 SIU System implements first-ever ProJet 3500 CPXMax for Armenian jewelry client

Download PDF Case Study
| | |
| --- | --- |
| 3D Printing is more than just prototyping. Today, 3D Printing offers transformative advantages at every phase of creation, from initial concept design to production of final products and all steps in between. Today's competitive environment makes choosing the right 3D printers more important than ever. Download this new, 19-page 3D Printer Buyer's Guide to learn: • How to choose the right 3D printer for any application • The key performance attributes to consider • Why in some cases, acquiring multiple technologies may be the answer to satisfy your unique, application needs Don't miss this insightful, quick-read resource. Fill out the form to the right to download the free guide. | |
| | |
| --- | --- |
| 3D Opportunity: Additive Manufacturing Paths to Performance, Innovation, and GrowthDownload the Deloitte Review white paper to determine which additive manufacturing or 3D printing path is best for your organization and how it will enable you, your managers and colleagues to understand: •I: A Starting Point for Additive Manufacturing •II: Supply Chain Evolution •III: Product Evolution •IV: Combined Supply Chain and Product Evolution Don't get left behind in the additive manufacturing evolution. Use this white paper to guide you in the right direction to improve performance, innovation and growth. Complete this form to get your free download of the 3D Printer White Paper today. | |